Tweet
by RB Mac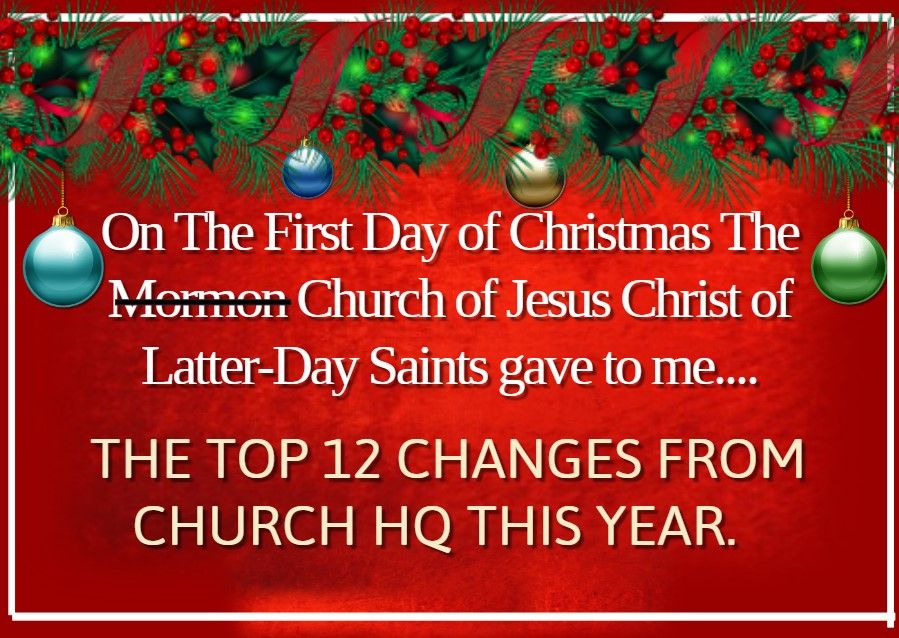 Merry Christmas! Its been a huge year of change in Mormon Church of Jesus Christ of Latter-day Saints land.

So, the guys over here at MMM thought we would bring you some Christmas cheer in the form of the twelve days of Christmas, featuring the twelve biggest changes in the church over the year.
On the first day of Christmas the Mormon Church gave to me…. A new first presidency!
If we are going to talk about this new first presidency, we have to talk about what came before it, way before it and that was Nelson and Oaks. Two bros, the highest-ranking Modern Mormon Men.
Bob Mims at the Salt Lake tribune put it this way "There they always were. The lawyer and the Doctor. The judge and the surgeon. The apostle and the… apostle." These two are close, besties, I think the term Bromance is appropriate. I am willing to make you a bet that somewhere between five and ten years ago President Nelson and President Oaks hunkered down in a cabin by Bear Lake, Utah in a brainstorming session (probably over a raspberry shake) about all the changes they would make once Nelson became prophet.
I am also willing to bet they wrote down on something like, a paper towel, all the things they are going to change.
I am dead serious, stuff is just rolling out too fast, this has been planned for a long time. And every time something new rolls out I bet they have a little victory party in Nelsons office where they pull out the paper towel and cross of the item that just changed, then they probably toast their success with a Chery Coke.
And don't forget about Eyring, poor guy! Imagine how hard it must be to try to reign in Nelson and Oaks!
(Note: December 1 we posted about upcoming changes in the church and how change is supported by the theorem of our faith.
Check it out.)
On the second day of Christmas the Mormon Church gave to me…. Two combined quorums.
So, this may be hard for some to grasp but just like you can become a "Made Man" in the mafia, you can well, become A "Made Man" in the #Mormon Mafia (church) as well. That happens when you get a call that promotes you into the High Priest quorum. I don't think that was ever intended to create a class system in the men's organization, but it sort of did.
Elders had several restrictions put on them such as who they could and could not HT, while HP were how would you say… more trusted.
Now the class system has been turned on its head, all the men are lumped together. Wahoo! And maybe, just maybe the EQ will finally get some money in the budget so we have activities like the RS have.
On the Third day of Christmas the Mormon Church gave to me…. One less hour of church.
The greatest gift, the greatest change this year: Two Hour Church!

Oh, the JOY!

As much as I love learning about my church, I think it has been clear for years that the doctrine of a "milk" only diet at church was leading to some unintended consequences. I like the fact that we are aligning what we learn at home with the lessons in church. Plus have the time to teach some "meatier" doctrine to the family and ourselves. I love that we are free to explore each topic as much or as little as we feel is beneficial for us and for our families. As the wise man said "you can't live by milk alone". I love the idea of study groups that has been mentioned in my stake, those could be allot of fun.

I am a bit of a gospel doctrine geek, so this is very exciting for me personally.
Best part is that my ward is the in the 9 am slot next year so I am on the boat with the family by 11:30 for family study and a picnic. Did I mention this is the best change EVER!
I hope they do a good job correlating the at home lessons with the lessons at church but I fear not. If there is anything we Mormons are known for, its correlation.
😊
On the Fourth day of Christmas the Mormon Church gave to me…. Four unauthorized nicknames!
While I like this change/ clarification about the title Mormon it sure would have been nice if the power dual (see day three) would have given us a moniker that we could at least use.
What's my moniker now, who am I?
I'm clearly not a Mormon. Am I a saint? Yeah right…. Am I a Church of Jesus Christ of Latter Day Saints?....that just sounds strange. Are we Modern Pioneer men? ....eh, maybe.
Allot of us, Church HQ included are struggle with this question of how do we easily and quickly identify ourselves? And we at Modern Mormon Men are struggling with the loss of our beloved term of Mormon as well. So, if you have a new term, we can use in the place of Mormon put it in the comments below. We got to figure this baby out before I get called into the area president's office and told the MMM is in violation of the 11th commandment, "thou shalt not call thine self a Mormon"!
On the fifth day of Christmas the Mormon Church of Jesus Christ of Latter-day saints gave to me… five (however many) less pageants.
This one has been awarded the biggest shock of the year award! With the good PR these bring. The outreach and missionary tools that they are, this took me by surprise.
That said Nauvoo made the cut and the church continues to invest and expand that area.
a few new homes are going up and the hill up to the temple is being re wooded.
Several of the activities that were removed the last few years are back. There are even rumors about adding another baptismal font to the temple to keep up with demand.
So maybe the church is putting all of it eggs into one basket in Nauvoo.
On the sixth day of Christmas the Church of Jesus Christ of Latter-day saints gave to me…
News flash they just changed the way youth progress through the system.
Well, out with the old number six and in with the new, changes are coming so fast I can't even write a post before I have to rewrite it.
This is almost my number one, what a great change.
what I like most about it is that the kids will be in the same Sunday School and youth group classes.
I think this can really up the brotherhood and sisterhood factors in the youth programs. I really think this will make the kids who move up from class to class together a much more cohesive group.
Only thing I'm afraid of is eleven-year old's passing the sacrament.
But hey if I go with a waterproof suit to protect me from the now probably spills, I am good to go
😊
Here is a list of changes to the Aaronic Priesthood ordination ages over the years.
There was no age restriction until 1909 when a General Priesthood Committee organized by President Joseph F. Smith established minimum ages as part of the organization and curriculum plans for the quorums.
| | | | | |
| --- | --- | --- | --- | --- |
| YEAR | DEACON | TEACHER | PRIEST | ELDER |
| 1908 | 12 | 15 | 18 | 21 |
| 1925 | 12 | 15 | 17 | 20 |
| 1934 | 12 | 15 | 17 | 19 |
| 1953 | 12 | 15 | 17 | 20 |
| 1954 | 12 | 14 | 16 | 20 |
| 1960 | 12 | 14 | 16 | 19 |
| 1970 | 12 | 14 | 16 | 18 |
On the seventh day of Christmas the Church of Jesus Christ of Latter-day saints gave to me… Seven new members of the Tabernacle choir at Temple Square.
This is probably the best name change they have done do fare.
We went from a three-word title, The Tabernacle Choir. To only a five-word title. The Tabernacle choir at Temple Square. That's a net gain of only two words.
I can't wait to go to
www.meetthepeoplewhobelongtothechurchofjesuschristoflatterdaysaints.com
, because ya, that's easier then www.meettheMormons.com. For crying out loud someone give me a moniker!
On the eighth day of Christmas the Church of Jesus Christ of Latter-day saints gave to me… Confused home teachers.
No question in my mind that the home and visiting teaching programs were outdated, and less if not ineffective. I like the paradigm shift the brethren are trying to illustrate.
I am not sure we are catching the vision.
In my first ministering interview I was told that the goal is to get our ministering families to their next ordinance. I asked if the goal should be to love them and try to make sure they feel that love.
The response back was in essence, how do we define success if the goal is to love them, that would never work? I guess the difference in that comes down to the difference between management and leadership. Help I me remember, is it Priesthood Manager or Priesthood Leaders?
Hmmmmm. Want to be a great ministering brother, just love your families for the sake of loving them for who and what they are and don't worry blessing will follow.
On the ninth day of Christmas the Church of Jesus Christ of Latter-day saints gave to me… Nine new service missionaries.
This is fantastic! I absolutely love the fact those who have health issues now have a system that is more in line with serving a proselyting mission.
The sacrifice of one's time to the service of the Lord that makes serving a mission special.
If that time is sacrificed teaching or providing service it does not matter, the sacrifice was made and those that make it should be treated equally.
I like the fact the call will come from church HQ. I like that they will now have mission presidents, rather then stake presidents. Excited to see how this goes and how it grows.
On the tenth day of Christmas the Church of Jesus Christ of Latter-day saints gave to me… Ten confused high priests that showed up to priesthood session on Saturday night in October Conference. (I dare you to say that fast in the song!)
Ok… so I admit it I miss this one, I really liked priesthood session. I liked spending time with my son and this was the only two nights a year that the men in the stake actually got together, now we have just one. I guess the Modern Mormon Man needs to learn to be a bit lonely.
☹
Oh, before I forget. Yes, we really did have a few high priests show up at the stake center for priesthood session in October.
Seriously guys use your calendar apps!
On the eleventh day of Christmas the Church of Jesus Christ of Latter-day saints gave to me… No more scouting!
Scouting is gone as of December, 31 2019. Is anyone under the age of 45 actually shocked?
I didn't think so. I think two things killed it.
1. Scouting did not keep pace with the MMYM (Modern Mormon Young Man) and as a result the MMYM lost interest in the program as a whole.
That's not to say that the MMYM did not like parts of it, they did. But as a whole scouting no longer relates to a MMYM. 2. It was not a youth lead program.
if you want a successful youth program it has to be youth lead and not just on the troop (quorum) level. All the way up to the stake and even area level we need youth leaders. I really hope the new youth programs have that level of youth leadership in them.
On the twelfth day of Christmas the Church of Jesus Christ of Latter-day saints gave to me… twelve priests baptizing in temples.
Love this one! Just do me a favor and keep us elders that are not in YM invited to temple nights, we like the ice-cream party afterwards.
That's it, the list is done, the song has been sung.
Merry Christmas and happy new year everyone!